About Himachal

Terepene
Himachal Terepene Products Private Limited (HTPPL) was established in1972 in the foothills of the Himalayas in the Indian state of Himachal Pradesh. We have a proud legacy – 2nd Private Limited Company in Himachal Pradesh, over 50 years in the Terpene industry, and the luminaries from the beginning of the company are still with us today.
We are strategically located at the foothills of the Shivalik Range and well connected by National Highways and State Highways and in proximity to 6 states of Delhi, Haryana, Punjab, Uttarakhand, Jammu & Kashmir and Chandigarh. Nearest international Airport is in Mohali (Chandigarh), 65 kms away.
Our location is our USP because the natural raw material for Terpene is abundantly available in the hilly regions in the form of Turpentine oil.
The processed variants of the Terpene widely caters to the requirements of numerous industries. With its strong presence and plentiful experience in the manufacturing arena, HTPPLis a state-of the-art provider to Pharmaceutical, Specialty Chemicals, Perfume, Food & Beverage, Agro- Chemical, Paints and Chemical Oil industries.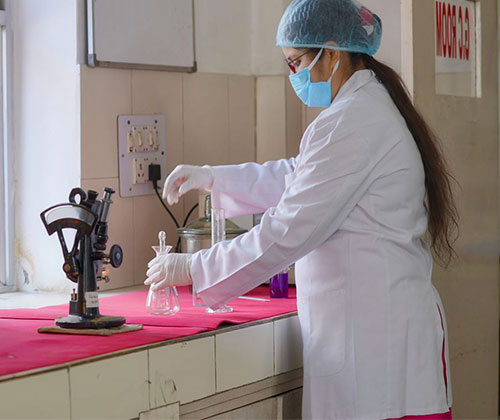 Our world class production unit is capable of producing 3,000 metric tonnes annually.
Besides winning on quantity, we keep laser-sharp focus on the quality of our products. Scientists and researchers at the HTPPL's Research and Development Lab innovate and bring out new products and strive to excel at maintaining best-of-class quality for the current range of products. There is a separate quality assurance unit which verifies the quality of the products through various quality analysis techniques.
Our products comply with quality standards and qualify the ISI, I.P. and B.P. specifications.
Our

Team
HTPPL is progressing and expanding rapidly under the stewardship of Shri G. K. Maheshwari, Chief Managing Director. With experience of over 45 years, he is a philanthropist, a visionary and a storehouse of knowledge!
G.K. Maheshwari is ably supported by his son, Akhil Maheshwari. Akhil has been leading & managing production, QA and QC for over 20 years. Currently, he is the Director for Technical, Manufacturing and Administrative activities.
The driving force of our company is our dedicated and efficient team of 70 professionals who are committed to work around the clock to ensure efficient solutionsto our client's requirements. Our professionals have proventheir skills and knowledge in their respective domain of work.